Major European banks back mining giant Glencore's toxic legacy in Colombia and Peru
16 November 2023
Almost 50 percent of financing for Glencore comes from European banks

In Colombia, nearly 340,000 people suffer from respiratory issues because of Glencore's coal mine

In Peru, over 56,000 people are exposed to contamination by heavy metals around Glencore's mine

The EU risks letting banks and investors off the hook in its new law to hold business accountable
Major European banks and investors are backing Glencore's toxic mining activities in Colombia and Peru. This is according to a new report by Fair Finance International, Oxfam, CooperAcción, Cinep and Censat. The report reveals that nearly 50 percent of loans and underwriting to Glencore over the last six years came from European banks like UBS and Société Generale, amounting to 41.2 billion euro.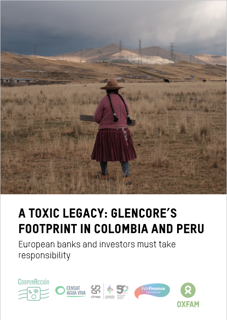 In Colombia, Glencore's coal mine in Cerrejón displaced indigenous communities and polluted the environment. After four decades of constantly breathing the poisonous dust of the mine, one third of the population in La Guajira region (nearly 340,000 people) suffer respiratory symptoms.
In Peru, Glencore's copper mine in Espinar (Cusco) has polluted the water of the ancestral territory of the Quechua and K'ana Indigenous peoples. Glencore plans to expand the mine by taking land without ensuring proper negotiation and consultation with the affected communities.
Ana Leyva, representative of CooperAcción Peru, said: "There is new evidence that Glencore is polluting water, air and the ecosystem. In Espinar, more than 56,000 people are exposed to contamination by heavy metals around Glencore's mine. Meanwhile, communities are not consulted properly about the copper mine's expansion."
Co-authors of the report, the organizations Cinep and Censat from Colombia, said: "Glencore diverted the river Bruno to accommodate their coal mine in an already water-scarce region. They polluted what little remains. And not content with this, the mining giant now seeks to strong-arm the Colombian government with a multi-million dollar arbitrage claim, aiming to expand its coal mine."
European banks are key for Glencore to continue its destructive activities. Of the 83.3 billion euro of loans and investments for Glencore between 2016 and 2023, nearly 50 percent (41.2 billion) came from European banks. Swiss UBS, French BNP Paribas and Société Générale, the Dutch ING Group and the British HSBC are the top five. The biggest European investors in Glencore are Group BPCE, Abrdn and Royal London Group.
Bram Joanknecht, Fair Finance International and Oxfam's expert in financial systems, said: "This report is yet more proof that behind every destructive project, there is a trail of complicit financiers. EU lawmakers must not let banks and investors off the hook in the new EU due diligence law. Those writing the cheques for projects like Glencore's in Peru and Colombia must be held responsible."
By investing in or loaning money to companies like Glencore, banks and investors play a crucial role and have leverage. They must use this leverage with companies to ensure their activities don't harm people and the planet. In the current negotiations for the new EU law to clean up business, EU lawmakers must make sure banks and investors cannot continue to bankroll environmental and human rights violations with impunity.
ENDS
Notes to editors
Experts from partners in Colombia and Peru, Fair Finance International and Oxfam are available for interview and comment.
Read the report, "A toxic legacy: Glencore's footprint in Colombia and Peru: European banks and investors must take responsibility".
The top five approved loans and underwriting to Glencore (in euros) by European banks between January 2016 and June 2023 were: 
UBS (Switzerland)                                       3.06 bn

BNP Paribas (France)                                  2.41 bn

Société Générale (France)                           2.18 bn

ING Group (The Netherlands)                     2.18 bn

HSBC (UK)                                                   2.11 bn
Data on banks and investors financing Glencore was retrieved by the research consultant Profundo, from Refinitiv's database. All institutions mentioned in the report were given the opportunity to comment.
Glencore started proceedings against the Colombian government in an Investor-State Dispute Settlement (ISDS) case, pressuring the Colombian state to pay Glencore millions of dollars for fulfilling the state's obligation to protect the water rights of marginalized Indigenous and Afro-descendant communities.
In a new report, organisations Cinep and Censat in Colombia document Glencore's harmful activities in Cerrejón (La Guajira region) and their impact on the environment of the area and the health of its communities.
Joint research by La Guajira and Antioquia Universities published in the Journal of Environmental and Public Health shows that 340,000 inhabitants of La Guajira suffer from respiratory issues related to the mine's polluting activity. La Guajira region has approximately 1 million inhabitants.
A new report by Cooperacción in Peru provides new evidence of the environmental and health impacts of the Glencore mine in Espinar, where more than 56,000 people are exposed to contamination by heavy metals around Glencore's mine. The report also documents the lack of transparency in the land negotiation process and how Glencore's intentions to expand the mine would lead to the resettlement of a community. 
The EU is at the final stage of the negotiations for new rules to hold business accountable for their damage to people and the planet, the Corporate Due Diligence Directive (CSDDD). Oxfam calls on the EU not to let the financial sector off the hook. Read Oxfam's media brief that breaks down the key issues at stake, and what EU decision-makers need to do to make it better. 
Researchers and representatives of affected communities from Peru and Colombia will present the report in eight European countries between 16 November and 1 December.
An event will take place in Brussels on 30 November to debate the role of financial institutions in corporate abuses in the context of the negotiations for a new EU law to clean up business.
Contact information
Julia Manresa | Oxfam EU Media Advisor | julia.manresa@oxfam.org | +32 473 87 44 26
Pauleen Genova | Fair Finance International Communications Lead |
pauleen.genova@oxfamnovib.nl | +31 622 00 88 74

For updates, please follow @OxfamEU You can also find us on LinkedIn.    
 For updates on FFI follow @FairFinanceInt. You can also find us on LinkedIn. 
 
At Oxfam, we care about your privacy. If you would like to unsubscribe or correct your data, please reply to this email and let us know. Learn more about your data protection rights.